To meet the needs and preferences of our diverse resident community, Frasier offers a wide range of floor plans for Independent Living, Assisted Living and Memory Support residences. With varying views, sizes, locations within the campus, amenities and prices, Frasier offers something for everyone.
Frasier's independent living apartments are spacious, modern, and elegantly appointed, and our two primary buildings offer many lifestyle choices. From a cozy one-bedroom to roomy two-bedroom with den residences, you can select from a wide range of resident floor plans designed to support active senior living. Our team will help support your apartment selection and prepare it as you wish, incorporating your furniture, art, or memorabilia, even your friendly pets.
The Peaks to the West
Considered our legacy independent living residences, The Peaks apartments offer some of the most stunning and unobstructed views for retirement living in Colorado, looking west to the Flatiron Mountains and Rockies. They connect easily to the parks and trails in the neighborhood and flow comfortably to our dining, wellness, arts and events areas, and offer all the amenities and services that make life easy.
The Prairies to the East
The Prairies, which opened in January 2020, includes 98 modern new residences on the east edge of the Frasier campus. All with private balconies, excellent morning light, 9-foot ceilings, modern amenities such as stainless-steel appliances and in-home washer and dryer, The Prairies is the envy of Boulder seniors. Indoor and walking paths outside connect residents to everything Frasier offers.
The Meadows Assisted Living at Frasier is specifically designed for residents who want to live independently, but may need help with such daily activities as bathing, meals and medication reminders. Offering 19 custom assisted living residences, our assisted living community is known for its attentive care and close-knit family atmosphere. We focus on holistic wellness, and our caring staff works with residents and their families to create a care plan tailored to the individual needs of each resident.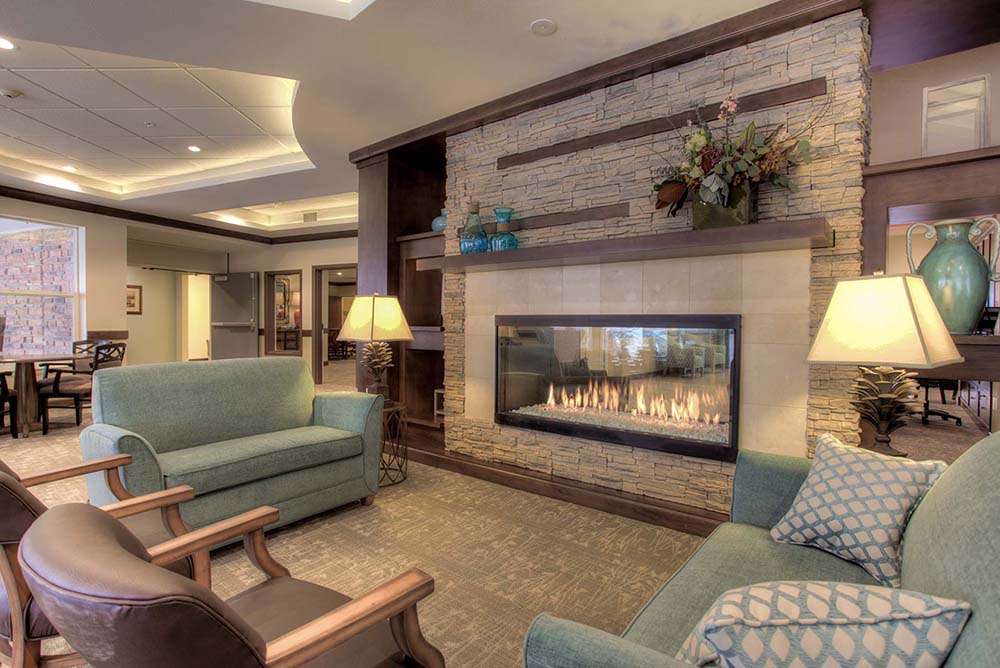 Attentive Health Services
For residents in assisted living, a care plan is tailored to each resident's needs. This includes access to around the clock staff, on-site nursing, medication reminders or medication management, emergency call systems, or assistance with bathing, dressing or meals.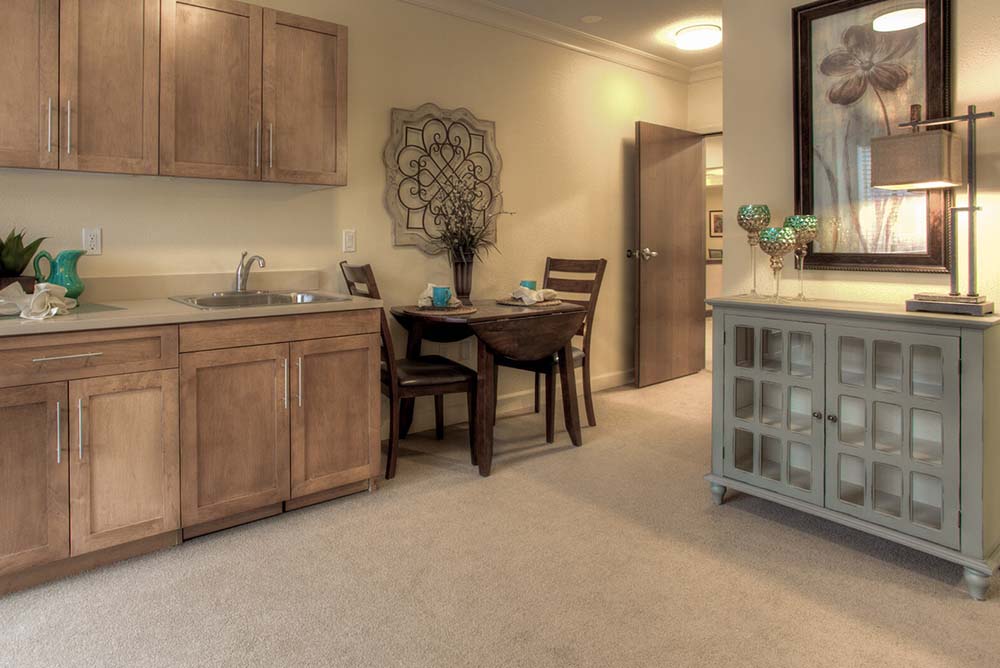 Comfortable Floor Plan Options
Choose from a variety of studio and one-bedroom private, stylish apartments with access to courtyards and gardens. Apartments can be custom furnished and decorated with personal touches, making your new home a true reflection of your personal memories and experiences.
Our memory support community at The Meadows is carefully designed to enhance the quality of life for residents living with memory loss. Experts helped us to design programs that support each resident to thrive, remain comfortable and safe, and gain purpose each day. Architects and interior designers played an important role along with our care team in creating a living environment specifically for memory support services, with comfortable rooms, open spaces, and easy connections to the community at large.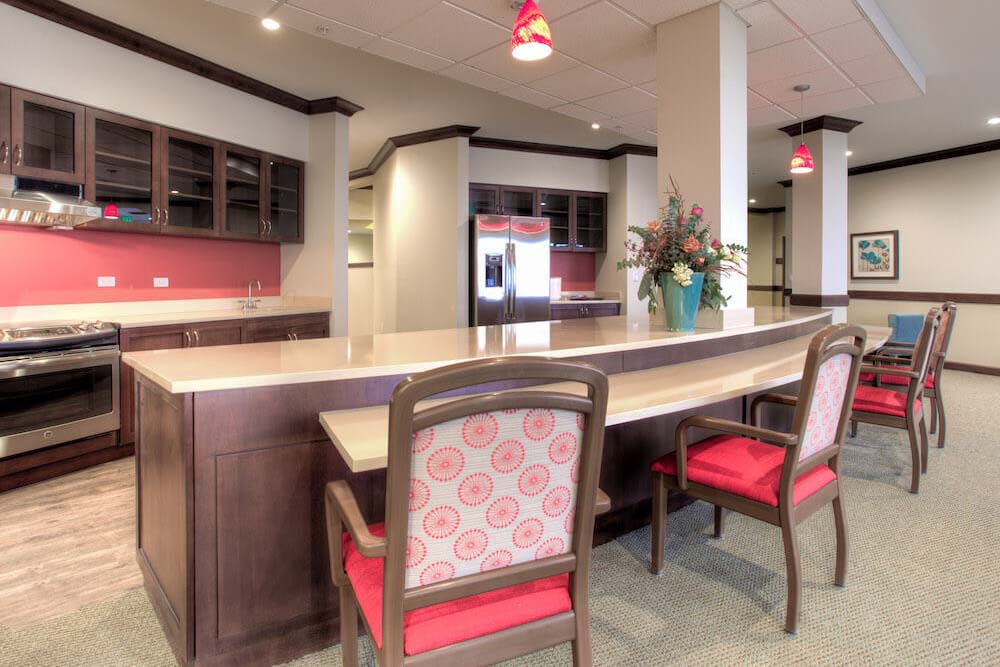 Private Residences
Frasier offers 19 memory support residences within The Meadows, ranging from comfortable 270-square foot studios to one-bedroom, 450-square-foot apartments. The residences are private, but allow staff to monitor resident well-being without being intrusive.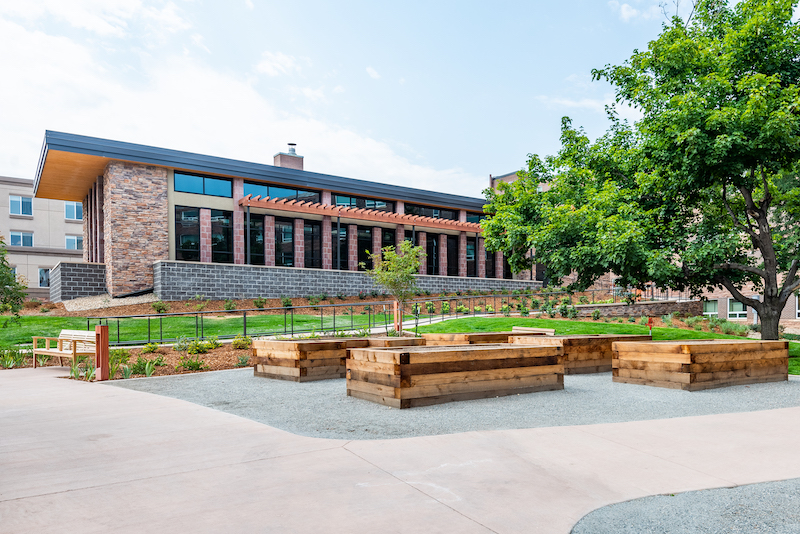 Beyond the Apartments
While the memory support residences are stylish and private, residents can connect with a peaceful courtyard, walking paths and gardens, and life-enriching social, recreational, and therapeutic activities in well-lit, relaxed shared areas that promote independence and freedom.
Would You Like to Learn More?
We encourage you to visit with a representative to review our living options, services, programs, and find a residence suited to your tastes and lifestyle needs. Call 720.562.4440 or contact us to arrange a tour.
Please note that our assisted living and memory support communities do not accept Medicaid.