by Andrea Needham at EldersDay
As our loved ones age, it becomes increasingly important to monitor their well-being in various aspects of life, including their finances. It's not uncommon for seniors to struggle with financial management. For seniors experiencing cognitive decline or physical limitations, staying on top of finances can become a real challenge.
Recognizing the signs that your senior loved one may need help with their finances is crucial for their financial stability and overall well-being. In this article, we'll explore some red flags that could indicate your loved one is having difficulty managing their finances and discuss some practical ways to offer support.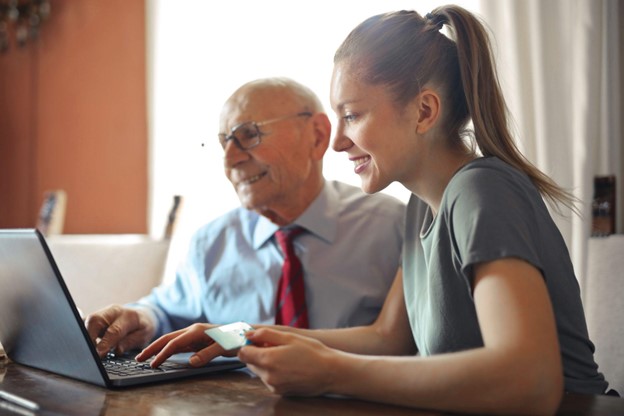 Spot the Signs
While everyone's financial situation is unique, looking out for signs that your loved one is struggling can help you determine when intervention may be needed. Spotting unpaid bills, unopened mail, or overdue notices at your loved one's house may indicate that they're having difficulty keeping track of their financial obligations.
You may also notice unusual spending patterns or strange purchases that are out of character for your loved one. If your loved one is expressing concerns about budgeting or affording their basic needs, this could be another sign they're having trouble managing their finances effectively.
Consider Senior Living Options
Problems with financial management may indicate memory problems or other age-related issues. For example, AgingCare recommends evaluating your loved one's health and functional abilities when you visit, looking for signs that they may need assisted living care.
If you think your loved one needs care 24/7, start looking around online for nursing homes in your area. The earlier you start looking, the more time you'll have to compare facility pricing, payment options, reviews, and amenities. For example, Frasier offers a variety of care options, from independent living to skilled nursing care, to meet the needs of seniors with varying care needs.
Start a Conversation About Money
When you notice signs that your loved one may be having financial trouble, it's time to broach the subject. Conversations about money can be uncomfortable but do not delay, especially if your loved one is showing signs of cognitive decline. As early as possible, start asking questions to get a clearer picture of your loved one's finances. For example, ask where they keep their financial documents, how much debt they owe, who serves as their financial advisors, and what planning they've done for the long term.
Seek Guidance from a Financial Advisor
 If you don't feel comfortable offering financial advice to your loved one or are unsure how to best move forward with their financial situation, don't hesitate to speak to a professional. A certified financial advisor (CFA) will create a financial plan that aligns with your loved one's immediate and long-term financial goals. A financial advisor can also help your loved one avoid financial scams and exploitation.
Consider looking for a financial advisor who specializes in senior finances, as these professionals will better understand planning for living on a fixed income, budgeting for long-term care, and investing in retirement accounts.
Set Up Automated Systems
Thanks to innovations in financial technology, managing money can be largely automated. Set up automated systems so your loved one has fewer financial matters to keep track of. For example, Clever Girl Finance explains that you can automate bill payments and contributions to savings and investment accounts. Start by signing your loved one up for automatic debits from creditors and service providers. For providers that don't offer this option, set up bill payments with your loved one's bank.
Supporting a senior with money management requires a great deal of patience, compassion, and open communication. Remember that each situation is unique, and the level of support required by your loved one may vary from help paying monthly bills to long-term care in a skilled nursing facility. By keeping an eye out for potential financial struggles and acting promptly when you notice a need for support, you can ensure your loved one maintains a high quality of life.