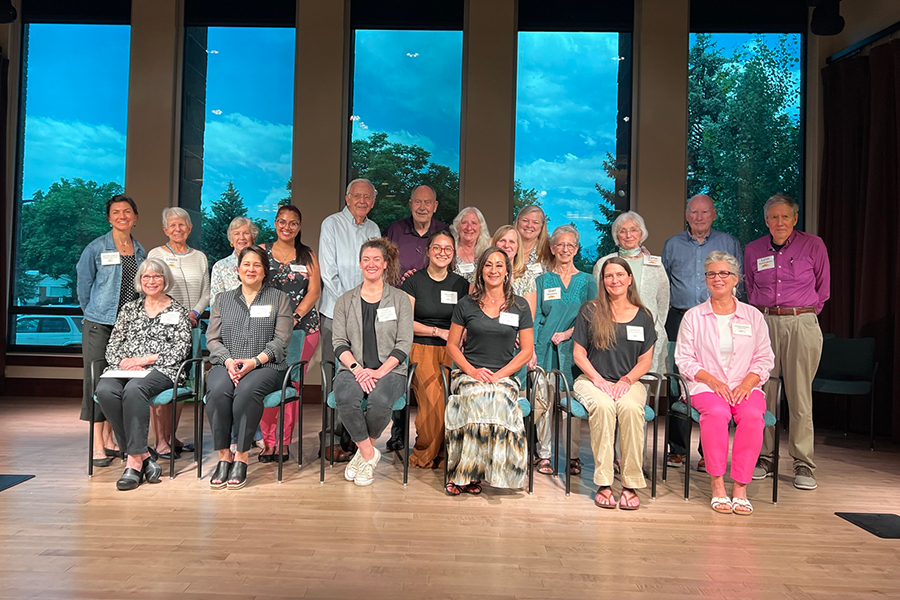 Social responsibility has always been a value prioritized by the Frasier senior living retirement community. In June, the Frasier Community Resource Fund Endowment awarded six local nonprofit agencies that serve the needs of seniors a total of $120,00 in grant funds.
In 2021, the Frasier Resource Fund Endowment was created to engage residents with a focus on supporting Boulder County nonprofits that provide essential services to older adults. The Seniors for Seniors Advisory Committee is comprised of Frasier residents who provide stewardship of the endowment fund. They are responsible for creating the grant criteria, reviewing proposals, and visiting local organizations that provide essential services to area seniors to better understand their mission and how they might use grants. The task force will annually distribute funds to area non-profit senior service organizations through grant submissions and a diligent selection process.
In its first year, Frasier's Seniors for Seniors committee issued grants totaling $75,000. In 2023 those grants increased to $144,500.
The six grantee agencies that received funds in 2023 include:
The Boulder Housing Partners Foundation maintains nearly 2,000 apartments with approximately 400 reserved specifically for seniors over the age of 70 with a median yearly income of just over $13,000. The grant from Frasier will be used as emergency funding for senior citizens to support individual housing stability when other funding is not available to cover a particular situation such as imminent eviction or homelessness.
The Boulder County Area Agency on Aging will use funds to expand resources for older adults who need additional support to repair their homes, pay for rent missed due to paying for repairs, and additional services to age in their place of choice. BCAAA will focus on targeting individuals where needs and services are not covered by Medicare or commercial insurance and those who are isolated and in need of support that falls outside of what State and Federal monies cover.
The City of Boulder's Older Adult Services will use the money to pay for hearing, dental, and medical needs not covered by insurance, transportation, and programs for technical education at the city's Age Well Centers.
Cultivate's staff of human services professionals connects low-income Boulder County seniors with nearly 300 volunteers who provide safety net services such as grocery delivery, rides for veterans to VA services, minor home repairs, snow removal, and a companion call program to reduce isolation. They will use their funds to train their staff to recognize changes in behavior, physical and mental health that are cause for concern in older adults they serve and connect them with individuals and organizations who can help them.
Dental Aid and Boulder's Older Adults Services will collaborate to add dental services at the West Age Well Center to its existing array of senior services that include hearing, vision, and foot care in addition to a café and a wide range of educational, wellness, and recreational programs. Specific services will include preventive and diagnostic care (exams, cleanings, oral cancer screenings) and basic restorative procedures (fillings, build-ups).
Nederland Area Seniors is in the beginning stages of developing activities and programs to benefit older area residents. NAS will use funds to rent and furnish a space, where they can establish programs to reduce rural isolation and depression through physical, cognitive, and social stimuli, and active community connection.
"Social responsibility has always been an important aspect of who we are at Frasier. The Board of Trustees, residents, and Frasier leadership will continue to find ways to live out that principle of service upon which we were founded," said Julie Soltis, Frasier's Director of Communications.
Frasier was originally established as a nonprofit 501 (C)(3) organization by the Rocky Mountain Conference of the Methodist Church under a religious exemption. It is an independent, not-for-profit mission-driven, senior living community dedicated to helping seniors enjoy vibrant and fulfilling lives since 1960. Located in Boulder, CO, the 20-acre campus features independent living, assisted living, memory support, long-term care, skilled nursing, rehabilitation services, and a wellness center for nearly 500 residents.