With Judy Sorum Brown, Navigating Perpetual Whitewater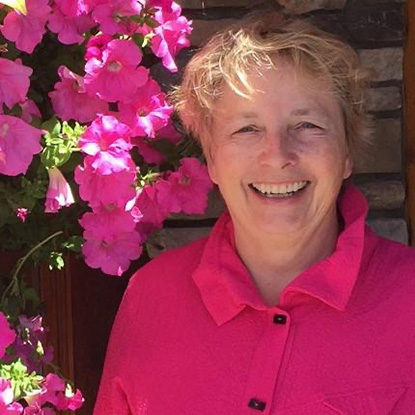 Frasier recently hosted nationally known and respected leadership expert Judy Sorum Brown to restart our Live Longer, Live Smarter series. The presentation titled, "Navigating Perpetual Whitewater" speaks to the struggles many seniors and their families have faced during the past two years of living in a pandemic. With casual wit, humor, a flare for storytelling and even a dash of poetry, Brown shared how she has come through her own personal challenges and shared strategies that anyone can use to do the same.
Brown is a leading expert in the aging services field and has taught leadership skills to the corporate world and government agencies including the intelligence community. A former White House Fellow, her presentations focus on themes of leadership and dealing with change and uncertainty with education, dialogue, and creativity.
The presentation kicked off with a story from Brown's days as a young college student putting herself through school as a flight attendant. She took the job having only been on a plane once before in her life when a flight she was on enroute to the United States from London lost an engine. Despite feelings of fear and uncertainty, instead of giving into panic, she simply focused on what she could do, her job, instead of everything that was outside of her control.
"I poured coffee, I poured tea, I chatted with people, calmed people down. I did what I could in an uncertain situation. I remained calm on the outside and simply did my job. We all have fingerprints for handling the unpredictable. We have our own strategies for handling challenges in our lives."
The plane landed safely, and Brown walked away with a new appreciation for her own inner strength and resilience in the face of uncertainty.
"When faced with difficult circumstances, something unsettling, pause and think about what you can control or have influence on then focus on that. Trust the wisdom of yourself, what you already know."
The term, "perpetual whitewater," is the perfect phrase to describe living through a pandemic that abruptly changed all our lives. Seniors, their families, and those working in assisted living and memory care were especially impacted by COVID-19, but Brown pointed out that even though it's everybody's first pandemic we have all been through times filled with fear and uncertainty and should reflect on how we got through it before. She spoke at length about how everyone has inner strengths and our innate resilience as a means of coping with the uncertainty and unwanted changes that are sometimes forced on us and shared some of the wisdom she gleaned from another thought leader, Dr. Lucy Hone in her TED talk, "The Three Secrets of Resilient People."
Life is hard. Don't deny that. Silver linings are nice to find but they don't make hard things any less hard.
Hunt for the good, especially when times are hard. It is critical during times of difficulty to actively search for the positive.
You can grieve for things lost and still live fully at the same time.
In a world full of negativity, it is easy to lose sight of the good things you have in your life and your ability to spread positivity when you find it. Some daily practices Brown has developed comes from a TED talk by Shawn Anchor, the CEO of Good Think, Inc. where he researches and teaches about positive psychology.
Before you begin your day identify three new things you are grateful for.
Before opening your first email of the day, send one to someone with a note of appreciation..
Exercise
Mediate
Write in a journal every day about something positive in your life. Keep in mind, though, that writing down worries or concerns can be therapeutic, too.
Brown has expanded on that and offered up one more daily practice-connect to nature. Be it a cup of coffee outside, or as she does, kayaking and taking walks with her neighbor, getting closer to nature has physical and psychological benefits to help us cope with our worries and the unwelcome unexpected changes we all must deal with.
Hosting leadership experts like Judy Sorum Brown is another example of the kind of educational and entertaining events we offer through our Live Longer, Live Smarter series for residents, their families, and the public. We strive to be a trusted resource in Boulder for information on senior housing, assisted living and memory care to support the health and wellbeing of our community.
You can watch the full presentation by Judy Sorum Brown here.