Frasier is shifting the paradigm of dining for senior living
By Wendy McMillan
for Aging at Altitude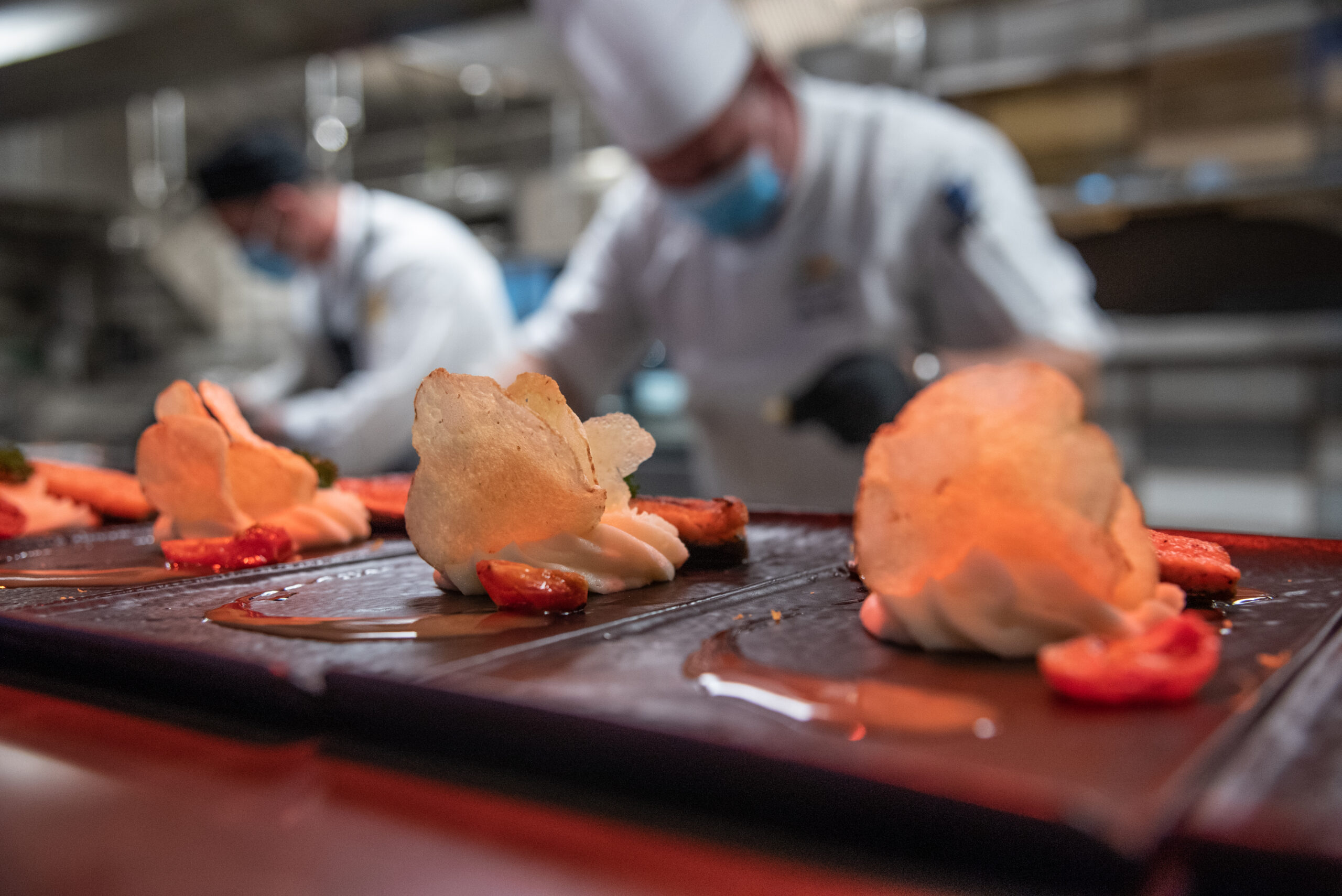 For starters, you'll love the Crab Cake with Brussels Sprouts Slaw, Smoked Aioli and Mustard Seed Caviar. Next, enjoy the fresh zing of Sweet Cherry Tomato Salad with Citrus Herb Vinaigrette, Pickled Celery, and Blue Cheese. A main course of Beef Tenderloin Medallions with Roasted Garlic Jus, Polenta Croutons, Cauliflower Puree with Brown Butter and Poblano-Chili Roasted Beets is the pièce de resistance but save room for dessert. And the finale of Red Velvet Tartare with Cream Cheese Ice Cream is divine.
Elegant and innovative, this delicious fare sounds like it's been pulled from the menu of a Michelin star caliber restaurant, don't they? In all honesty, it probably could be, but the team behind these dishes and infinite others isn't focused on chasing accolades from food critics. They're too busy pleasing the palates and nourishing the lives of their beloved diners, the residents of Frasier.
Founded in 1960 to serve and enrich the lives of Boulder's seniors, Frasier is a Life Plan Community offering a continuum of care that allows residents to live their lives fully with the care they need, when they need it. Located on a sprawling 20-acre campus in residential Boulder, the beautiful campus consists of three central neighborhoods, each with a unique focus– independent living, 'The Meadows' assisted living and memory support, and 'The Summit' skilled nursing/long-term care. Across these three levels of care, opportunities abound to connect, and strong threads of continuity and comfort are interwoven, not least through dining experiences.
Superior Team, Top Quality Food
Frasier's Director of Dining Services Jonah Cox brings to the table a resonant blend of personal and professional experiences that is indeed one-in-a-million. Coming from the culinary world, he has a degree in social work and experience across a broad range of dining operations. What's more, his passion draws from genuine familial roots. "Cooking and food were always a big part of my life," Cox explains. "My family was always cooking meals together, and it grew into a culinary career. My very first job was in a retirement community. My grandfather lived there."
Joining Cox is a team of roughly 100 employees, including professionally trained chefs and registered dieticians. "We're shifting thoughts away from that vision of senior living meaning institutionalized, bland food," Cox says. "In our team, even our front-line cooks come with a wealth of experience. We're all focused on producing great food."

Contrary to outdated impressions, senior living allows for chefs to really stretch their abilities and creativity, Cox says. "Our menu changes all the time, as our residents deserve and expect. We're not preparing the same food over and over. We have constantly changing, varied options."
Included among those options is a nightly chef's special, to which the response has been resoundingly positive, Cox says. Frasier also regularly offers unique events, such as a tantalizing menu for National Chocolate Day, and special catered events.
Delicious Nutrition, for All
As much as the food at Frasier delights (and it really, really does), it also nurtures. Cox and his team take painstaking efforts to ensure that residents are offered the best in nutrition, for everyone, for seniors specifically, and as determined by individual needs. This past March, Cox made use of National Nutrition Month as a springboard for launching bolstered nutrition education for residents. Nutrition Care Manager and Registered Dietitian Kyle Martinez coordinated drop-in nutrition consultations for residents. These were so successful, beginning this month, Frasier is hosting an 8-week series on related topics, including snacks to promote brain health, the role nutrition plays in managing stress, keeping active, and more. Spearheading this educational series is Frasier's other Registered Dietitian, Rachael Dritlein, Assistant Director of Dining at Frasier.
In addition to focusing on nutrient-rich offerings and education, Frasier makes sure to meet all residents' needs. "People have unique dietary requirements," Cox says. "Besides preferences, there are food allergies, restrictions, and physical limitations. Some people may need a pureed diet or a range of other modifications. We're very clear on menus about the top nine allergens, and we work closely on an individual basis with residents, coordinating with our clinical team and dietician, to make our foods available to them, safely."
"Of course I'm biased," Cox says, "but in a lot of ways, our program is up there with top restaurants in Boulder. I've been on the other end of the table in these situations, starting with those meals with my grandfather. I know how important good food and all that comes with it is for this experience. It's an honor to bring that for folks."